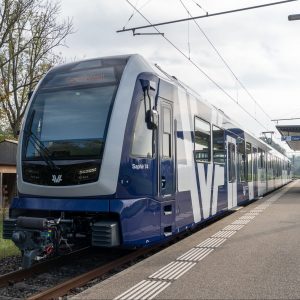 The "Saphir" of the AVA (Aargau Verkehr AG) is a modern, comfortable local train with a high deck and a high lower deck section and travels as the S 14 between Menziken and Schöftland, via Aarau in each case, in the canton of Aargau/CH. In November 2016, the AVA ordered five three-part trains, each with a length of 60 metres, from Stadler Bussnang AG. From December 2018 till 2019, the five Saphir vehicles were fitted out by us with an individually adapted passenger information system for the AVA. In cooperation with Stadler and the AVA, we developed and integrated a design solution for the passenger information system and constructed a four-fold mounting in V-form especially for the installed 21.5" TFT double monitors for the AFA.   The following hardware components and software modules were implemented: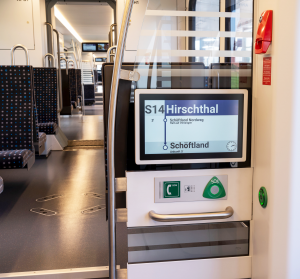 Operating panel
TFT monitor 21.5"
TFT double-monitor 21.5"
Acoustic passenger information system, PAN
Front and side displays
Telephone box
Video surveillance – control via HMI
Passenger intercoms
GSM gateway
POIScentral and POISmobile (backend and front-end) for control of passenger information
Do you have a similar project and would you like to discuss it together with our team? Contact us, we will gladly advise you.