A good passenger information system is characterised by optimally recognisable visual information that is supplemented by easily understandable loudspeaker announcements. At the same time, this should be implemented with the lowest technical effort possible. The FELA passenger information system POIS networks vehicle components and tailor-made control centre software modules. Mobile and stationary input devices, which can be operated by the train conductor, are also provided in the ticketing area. Optimally prepared acoustic and visual information helps the passengers to become quickly and reliably informed about their trip and connections. This improves the satisfaction and promotes the acceptance of the transport company.
Virtual tour in the "Saphir" | AVA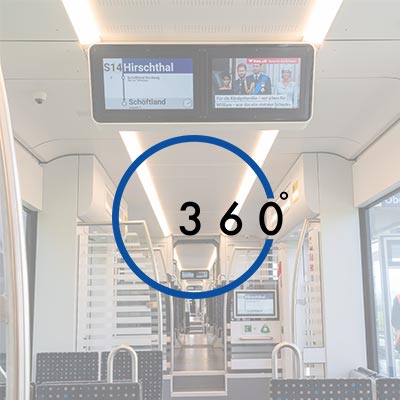 Would you like to take a look virtually as to which components in a train are responsible for the passenger information? To be able to move freely in the train as it were? In the "Saphir" project of AVA (Aargau Verkehr AG), five new trains have currently been fitted out by us:
Development and production of the FELA PIS system with PIS with components
Delivery of the FELA passenger information system, POIS
Conception and configuration of the ZUKO network architecture
Integration ITCS system POIScentral
  Our team installed HMI operating panels, 21.5″ TFT single and double monitors, PAN audio systems, front and side displays, the FELA telephone box, passenger intercom and GSM gateways and ensured optimum networking.