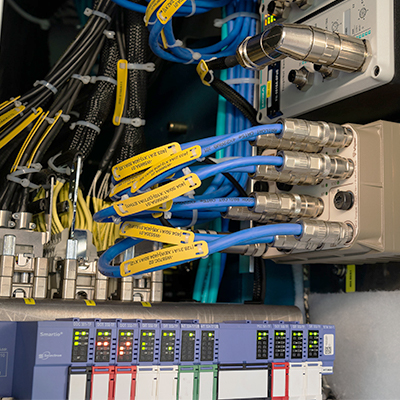 We equip vehicles with components such as monitors, front and side displays, passenger intercoms and audio systems, and network these with extremely robust and reliable network switches (EN 50155 compliant).
These switches are designed for use in harsh environments and enable setting up of reliable and secure networks in the vehicles.
Because of the modularity and the numerous configuration options of the FELA passenger information system, transport companies can customise their specific situation. Third-party communications systems are integrated into the system via defined interfaces.
We do the network engineering for you and get your system up and running.
For networking of vehicles, the FELA Gateway enables wireless internet access in the vehicle. It integrates a WLAN access point and further interfaces for the widest variety of applications such as remote access, data collection and passenger information.
The FELA Gateway is a performant and compact communications gateway that fulfils the high demands on hardware in the railway environment.
Several LTE/UMTS modules, the dual-SIM function and the ingenious WAN link manager provide a high availability of network connections – also between several network operators. The gateway separates the networks using port-based VLAN and makes dedicated communication paths available to the various applications.
The router is certified for operation under harsh environmental conditions in accordance with EN 50155 and fulfils the fire protection standard EN 45545.
FELA switches and gateways are important components for the networking of vehicles and so ensure a performant passenger information.