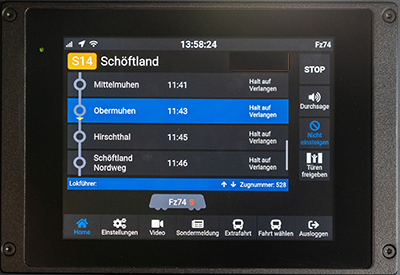 Designed especially for the rail sector in accordance with EN 50155; the HMI operating panel offers many advantages:
robust
easy to install
can be configured
vibration resistant
protected against electromagnetic effects and temperature differences
The reflection-free display is fitted with LED background lighting and is regulated using a light sensor. The HMI operating panel can be connected to third-party systems and adapted to the installation conditions by the customer.
Operating functions
Train setup and train number selection
Manual intervention for GPS location that is not available
Handling of an emergency when a passenger has actuated an emergency intercom
Selective viewing of the images from surveillance cameras
Train description for special trips, destination or transit
Announcements for complete vehicle combinations
Announcements for individual vehicles, e.g. in multi traction
Announcements for individual loudspeaker circuits, internal, external or both
Sending text messages to the control centre
In addition, maintenance functions and rapid diagnosis functions can also be performed via the operating panel:
Update of equipment software
Query of equipment status in all PIS components
Function for updating the data supply
Would you like more detailed information? Send us an E-mail, we will send you a reply immediately.