POIScentral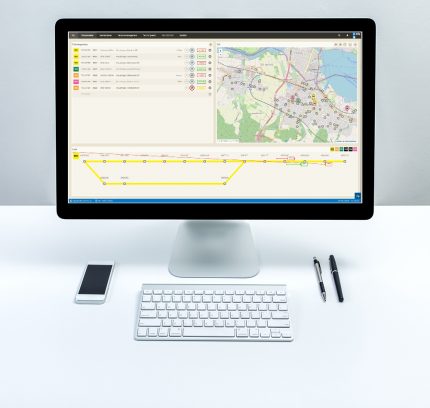 With the help of POIScentral, the centre of the POIS software modules, the user gets access to the operating interface (WebGUI). Here the user can control the ITCS and carry out data maintenance for all system functions and components. In addition, POIScentral carries out calculation, control and communication tasks, e.g. the real-time calculation of timetable deviations for vehicles, the control and handling of communication with these, and statistical functions.
The operating functions of the control centre of POIScentral are collected in various program modules (adapted to the user groups):
Data supply (timetables and operating data)
Control centre function
Dynamic passenger information at way stations
Infotainment
Interfaces to surrounding systems/third-party systems
POISmobile
The POISmobile software module controls the vehicle-side components and services of the passenger information system or control system.
It includes especially the vehicle on-board computer with its control functions in the vehicle, as well as its operating unit.
Also included are all other subsystems affected by the on-board computer that can originate from FELA, such as external and internal displays, TFT monitors, as well as the acoustic passenger information.
Do you have a project that you would like to discuss with us? Contact us. We will gladly advise you.