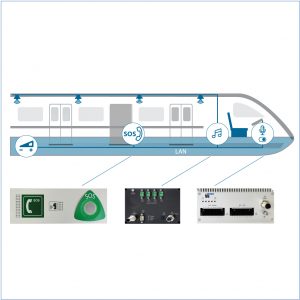 Our passenger information systems network train compositions visually and acoustically. For PAN announcement systems (Phone and Announcement), our passenger information system uses latest-generation POIS audio amplifiers with digital signal transmission.
Noise-suppression and interference filters
Maximum audio quality
Powerful integrated processor
Ethernet
UIC interface
You and your passengers can therefore be sure that announcements are definitely broadcast in the vehicle compartment and can be clearly understood. Our audio amplifiers are selected individually for each project so that the needs of the customer can be optimally met.